You decide that you need an air compressor and type a search into Google - over 70,000 results pop up. The decision to buy the compressor now feels more involved and yet collecting the information to make this decision remains of utmost importance. As with all large purchases in life, it pays to be well informed. This article provides clear and concise information to guide one of the initial considerations of your air compression purchase, size.
One of the first and most asked question to air compressor manufacturers and stockist by a customer relates to size. Determining the size of the air compressor will guide the series of decisions that will lead to your final selection. This article outlines how to determine the size of a compressor you will need, breaking it down through our size guide, compressor uses/sizes and capabilities/sizes - to help you navigate this tricky pathway to reach your final decision.
If you are seeking information to navigate buying an air compressor, this guide will ensure you pick the correct model. A good trick to remember is that horsepower should not influence your decision but instead use the CFM (Cubic Feet Per Minute) needs, duty cycle and pressure as your guiding components.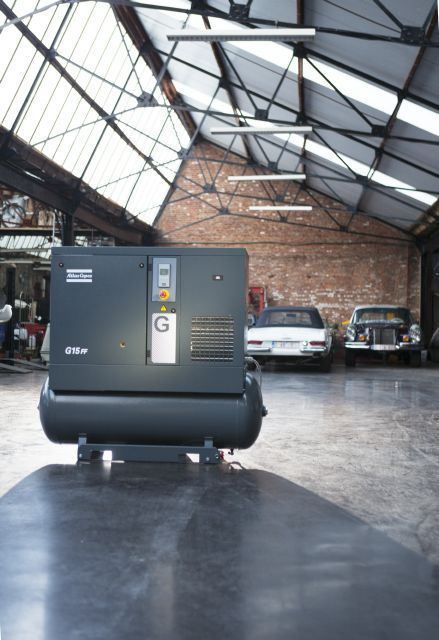 Air Compressor Size Guide
Our air compressor size guide has been built to facilitate a quick and uncomplicated way to determine the size of air compressor you will need for your residential, commercial, or industrial setting.
Our process has been tried and tested to find the most logical steps to follow and make the selection straightforward.
Step 1: CFM
We begin with a calculation. The CFM (cubic feet per minute) is the first step and determines the required capacity of the compressor. To calculate the CFM correctly, try:
CFM = (fpm * area), where fpm is the feet per minute. To find the cubic feet per minute, substitute the FPM value with the area after the area is squared.
Once you have the answer, add another 30% of the calculation result to allow for uncommon/unknown compressor usage.
CFM is again a relevant consideration when comparing your needs to the single-stage or two-stage compressor. As the initial step, calculate the operating pressure specifications for the tools planned for use with the compressor. This calculation will immediately determine whether the single-stage or two-stage compressor will suit. Based on the specific tools intended for use, a single-stage compressor is a right choice for up to 150PSI. Tools that require pressures over this will need a two-stage compressor.
Step 2: Duty Cycle
Let us begin this next step by identifying what a duty cycle is. A Duty Cycle refers to the time it takes for an air compressors pump to fill up its tank with air; one full cycle of the pump is the total time it takes to fill the tank. An example of this would be:
If the air compressors total cycle time were 10 minutes and it ran for 6 minutes during that time, it would equate to a 60% duty cycle, which reflects a total of 4 out of 10 minutes the compressor was resting or cooling during a cycle.
There are some further considerations for this measurement are regarding the provision of consistent pressure (PSI) and flow (CFM). An example of how these elements relate is based on an air compressor advertising an 100% duty cycle at 40 CFM and 250 PSI, which means it will provide 40 CFM and 250 PSI for 100% of the time with the help of a storage tank.
In this example, the duty cycle refers to a consistent flow and pressure for a percentage of the total cycle time.
The duty cycle is referring to how often the compressor will be cycling on-and-off while working. To calculate the duty cycle formula, use this method:
Compressor time on / (time on + time off) = Duty Cycle percentage
The calculation of the duty cycle is such an important feature to understand as it demonstrates how the compressor will operate and meet your air requirements when sizing a compressed air system. Another way to describe this would be to use the duty cycle rating as an indication of the length of running time of a compressor and the lag or rest time between cycles, important information to grasp to ensure the system is not overworked.
Step 3: Pressure
An air compressor's beauty takes a task generally accomplished by hand and makes it possible to achieve in seconds.
The tool enables pressure to apply and cut hard materials, loosen tight bolts and other complex tasks otherwise impossible to complete. It is important to have researched and understood the air pressure requirements of a tool or application to narrow the compressor's size.
Too much pressure on your air tools can result in costly mistakes, but there are further-reaching consequences in addition to this, like equipment failure, repair costs and health/safety risks for those working around the compressor.
Australia's Leading Air Compressor Supplier

Blue Diamond are an industry leading air compressor supplier, providing total air solutions to meet the needs of industry, workshop & commercial applications Australia wide. With a range of piston, screw and mobile air compressors hand-picked only from trusted brands, excellent servicing & support, and great prices, it's no surprise we are the trusted choice for 1000's of Aussies.
No matter your compressed air needs, we will have an air compressor to suit. If you are unsure which air compressor is right for you, talk with our experienced sales team for the right advice to meet your requirements on 1300 998 647.
Contact Us Today
It's important to ensure you select the right air compressor for your needs. So, if you have any questions or need some help please do not hesitate to call us on 1300 998 647