The comfort an air conditioner can bring to travelling or living in a caravan compares to none. It's an appliance that requires a significant amount of energy to start and to keep running, with on average, caravan generators needing a 2000-4000 watt capacity to power one. There are many factors involved in what size generator will work best for your caravan, but generally speaking, you will be able to use an air conditioner and other appliances comfortably using a 2000-watt generator. To assist in figuring out precisely what sized generator will work best for your setup and air conditioning unit, we have put together this information guide. This guide will highlight the right generator to use for your situation, in addition to sizing information and the essential factors when considering an AC units capacity and running requirements.
What Type of Generator to Use?
When it comes to caravans, inverter generators are the best type to buy. They are compact, quiet, economical and produce clean power for running sensitive electronics. Caravan inverter generators are powered by four-stroke motors using standard unleaded petrol, with the exception of large motorhomes and bus conversions, which will call for a more powerful diesel generator.
As a type, caravan inverter generators are more expensive than conventional portable models, but they have distinct advantages. Such as increased efficiency through control by the electronic throttle in response to the demand, lower emissions and low operational noise. Interestingly and most importantly, they are affordable (like the Petrol 2.4KVA Inverter or the Genesys- 2.4 KVA Inverter Generator & Box Combo) and can supply more than enough to power to run the air conditioner in your caravan.
What Size Generator is Needed?
The major consideration to note when researching a specific make and model of a generator to power the air conditioner in your caravan is its total capacity - and how this relates to the starting and running requirements of the air conditioner on board your caravan. Generators are rated by their maximum power output. So, a 2000-watt generator can produce a maximum of 2000 watts at peak and continuously run at around 1600 watts. Due to their size and weight, many people want to use a 2000-watt generator, but unfortunately, it is often not enough power to start a caravan air conditioner.
Most caravan air conditioner models will need somewhere between 2000 – 3000 watts to start. So, to get the right sized generator, you need to find out how much power your caravan air conditioner requires. This is not always readily available, as usually, the running power is the information stated on the product. We recommend contacting the air conditioner manufacturer to get the correct information on which size generator to operate your model comfortably.
Factors to Consider When Running Caravan Air Conditioner from a Generator
There are some essential factors to consider when running an air conditioner from a generator in a caravan; we have made a list of the most common questions asked to assist with your research. An air conditioner in a caravan is most likely one of the most energy-consuming appliances you can use. An average unit consumes between 1000 to 2000 watts when running but can consume between 2000 to 3000 watts to start. This starting and running power output is an important consideration to make, in addition to external temperature impacts, extension leads and using multiple appliances in conjunction with the air conditioner.
Temperature impact
as ambient temperature and/or humidity increases, the power required to start an air conditioner compressor is greater, and the power output of a generator decreases. This means at the time more power is needed to start the compressor; the generator is making less power than its rating due to the higher ambient temperature and humidity. A good rule is to allow a 1.5% decrease in output for every 5 degree C above 25C.
Extension leads
it is a good rule of thumb to use a shorter extension lead from the generator to the van in hot conditions as the amperage will drop when using a longer lead. The recommended length to stay under would be 3 or 4 metres.
Running multiple appliances alongside the air conditioner
Necessary to calculate the load drawn by other appliances operational alongside the air conditioner such as battery charger, fridge, lights, TV. The generator will need to be able to provide enough power for all the appliances to work simultaneously. If this is providing difficult to calculate, contact our experts at Blue Diamond on 1300 998 647.
Caravan Generator Recommendations
Based on our experience and knowledge of the industry, we have the following recommendations for Honda and Genesys inverter models:
Honda Eu22i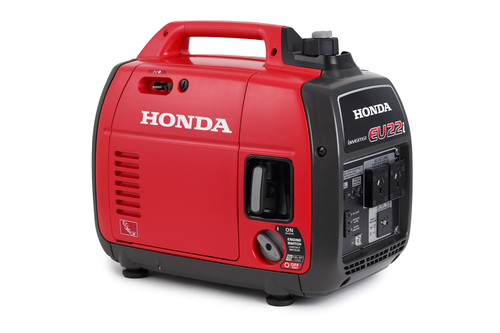 Honda 2.2KVA Inverter Generator - EU22i
Honda Eu10i

Honda 1KVA Inverter Generator - EU10i
Genesys Gen2500i
Genesys Inverter Generator - Petrol 2.4KVA
Find a Caravan Generator at Blue Diamond
Selecting the right size generator to power your caravan's air conditioner is made easy when following the information outlined in this guide. Browse our caravan generator range or contact our expert team or the AC manufacturer to confirm the recommended size generator for your make and model - keeping in mind any additional power capacity for multiple appliances and the suggested environmental considerations.