It is essential to choose the right sized generator for your needs. Choose one too small, and it can become overloaded, leading to damages; selecting one too big may result in unnecessary spending on fuel, maintenance, and repairs. Determining the right size of the generator is based on a calculation combining the number and type of electrical appliances intended for use. We have created this article to guide outline what a 3000-watt inverter generator will run. Comparing various models based on fuel efficiency, operation and their capability to power several appliances and tools at once.
Starting And Running Watts
Understanding the 3000 watt inverter generator wattage is an essential first step.
The 3000 watt rating of a generator will refer to starting or running watts. This difference is significant to note.
Starting watts Vs Running Watta:
Refers to the brief surge of wattage needed to start a device, while the running watts refers to the wattage needed to run the device at a continuous momentum.
Interestingly, generators often have the starting watts listed on the product description simply because it's the higher of the two - so it is essential to locate the actual specs to confirm the running watt capability. Both starting and running watts require consideration to avoid unwanted circuit breaks.
Working out the two wattage values is quite simple; first, add the running watts of all the devices you wish to power, then add the largest starting watts of the selected devices. Added up, these are the maximum starting watts that must come under your generator's starting watts specs. For example, if you need 4950W, you will need a generator to produce at least 2600 total running watts and 4950 total starting watts.
Some important considerations to make note of as you are doing this calculation; depending on your situation you may need to account for multiple people using the same circuit and possibly starting two devices at once and good to note that some devices may have surges like starting watts, while they are in operation – commonly seen for devices with multiple power modes and will usually be mentioned in their user manuals.
What Can a 3000 Watt / 3kVa Inverter Generator Run?
Determining the capability of your generator is entirely dependent on size. A 3000-watt inverter generators can power a range of devices from air conditioners, microwaves, hot water heaters to small power tools - items commonly used around the home, at trade sites, camping, caravanning, and with this size, as a power backup.
A 3000 watt generator has the capacity to run a few larger essential appliances, but also can safely provide power to sensitive portable electronic equipment, such as laptops.
Home Appliances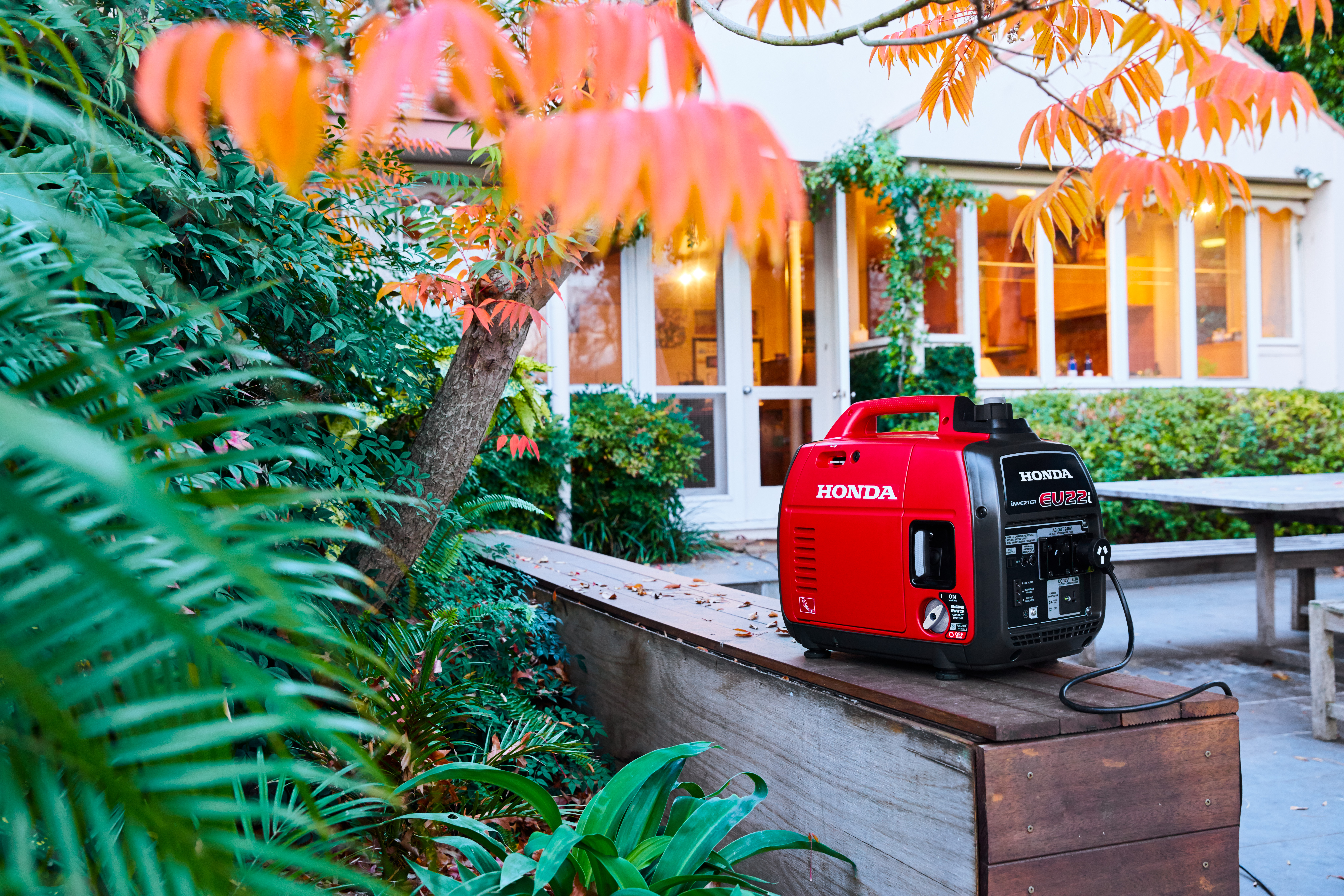 A 3000 watt generator can provide a power supply for a range of applications at home, in addition to providing emergency power during an outage. While these home generators are popular due to their long run time, affordable price and simple maintenance, the most important initial considerations are those associated with power capabilities. Below our table of home appliances that could be used with a 3000-watt generator:
| | |
| --- | --- |
| Item | Estimated Watts |
| Microwave (1000 watts) | 1000-2000 |
| Coffee Maker | 600-1200 |
| Toaster | 800-1500 |
| Fridge | 500-750 (starting watts can be 3 times this) |
| Chest Freezer | 600 |
| Laptop Computer | 20-75 |
| Speakers | 200 |
| TV (e.g. 50" LED) | 240 |
Trade Sites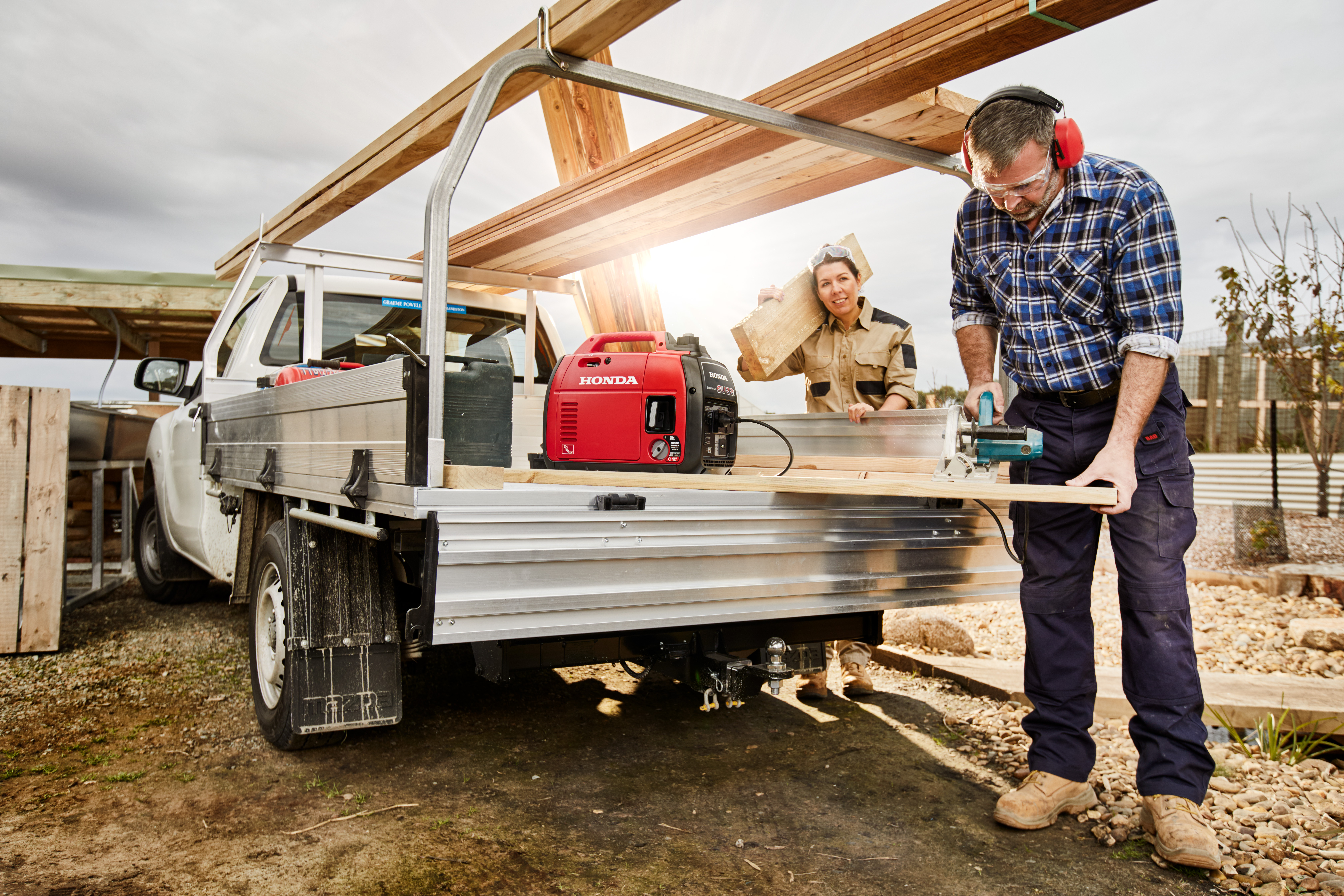 Once you figure out your total wattage, you can start looking at different sizes of generators and know which one will work best for the trade site. A quick refresher on this calculation; add up the total wattage of everything that will be plugged into a generator. To find the total watts, combine the operating watts to the starting watts; we also recommend an additional 10 percent to ensure you have enough power in your generator. The 3000-watt generator may seem small for a trade site, but it's enough wattage to power a few tools such as a chainsaw, hand drill, rotary hammer and a portable heater.
Below our table of trade site appliances that could be used with a 3000-watt generator:
| | |
| --- | --- |
| Item | Estimated Watts |
| Angle Grinder | 900 |
| Drill | 500-960 |
| Disc Sander | 1200 |
| Band Saw | 700-1200 |
| Table Saw | 1800 |
| Air Compressor | 2000 |
Backup
The 3000-watt generator is a reliable home or office back up power source during power disruption or outages. These generators can produce enough power to run the essential appliances and items, such as refrigerators, freezer, lights, computer, phones and critical equipment for the elderly or sick. These generators are a cost-effective, lightweight, portable popular option providing peace of mind that essential appliances will work uninterrupted during an outage or emergency.
Below our table of backup applications that could be used with a 3000-watt generator:
| | |
| --- | --- |
| Item | Estimated Watts |
| Toaster | 800 |
| Portable Fan | 100 |
| Well Pump | 2000 |
| Chainsaw | 1650 |
| Computer | 350 |
| TV | 450 |
Camping Trips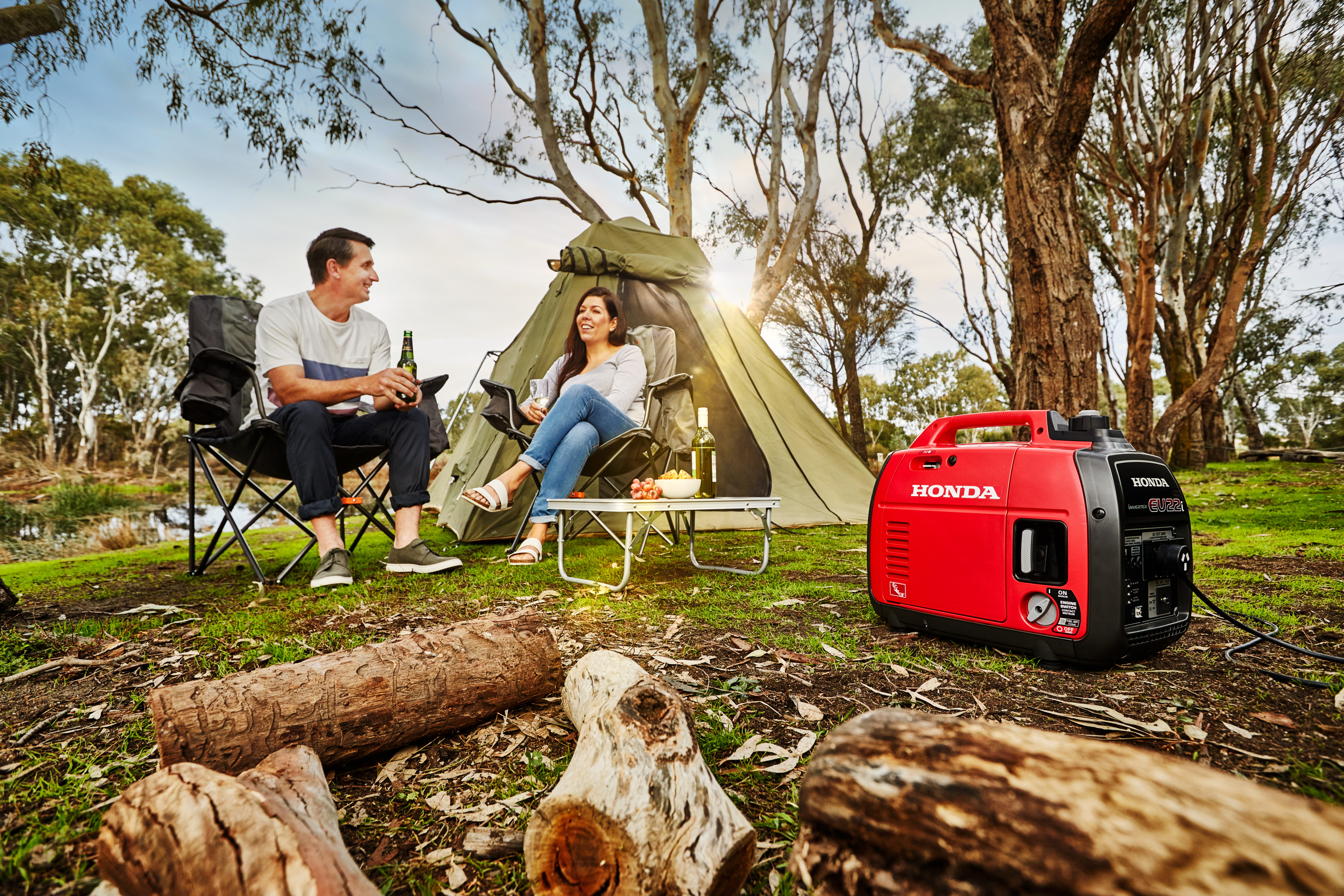 A 3000-watt inverter generator can be considered a heavy-duty power source when considering for use when camping. Generally, customers buying in this category seek noiseless camping generators to cater to a range of devices and appliances and power-sensitive equipment - making this generator a front runner. Generally, with 3000 watts at your disposal, power will be easily generated for lights, fridge and other essential equipment as well as in support of any solar systems or to recharge batteries. Below our table of camping appliances that could be used with a 3000-watt generator:
| | |
| --- | --- |
| Item | Estimated Watts |
| Small camping air conditioner | 900-1700 |
| Pump | 800-1300 |
| Heater | 750-1500 |
| Microwave | 1000 |
| Phone Charger | 10 |
| Laptop Computer | 20-75 |
| iPad/Tablet | 10-20 |
In Your RV or Caravan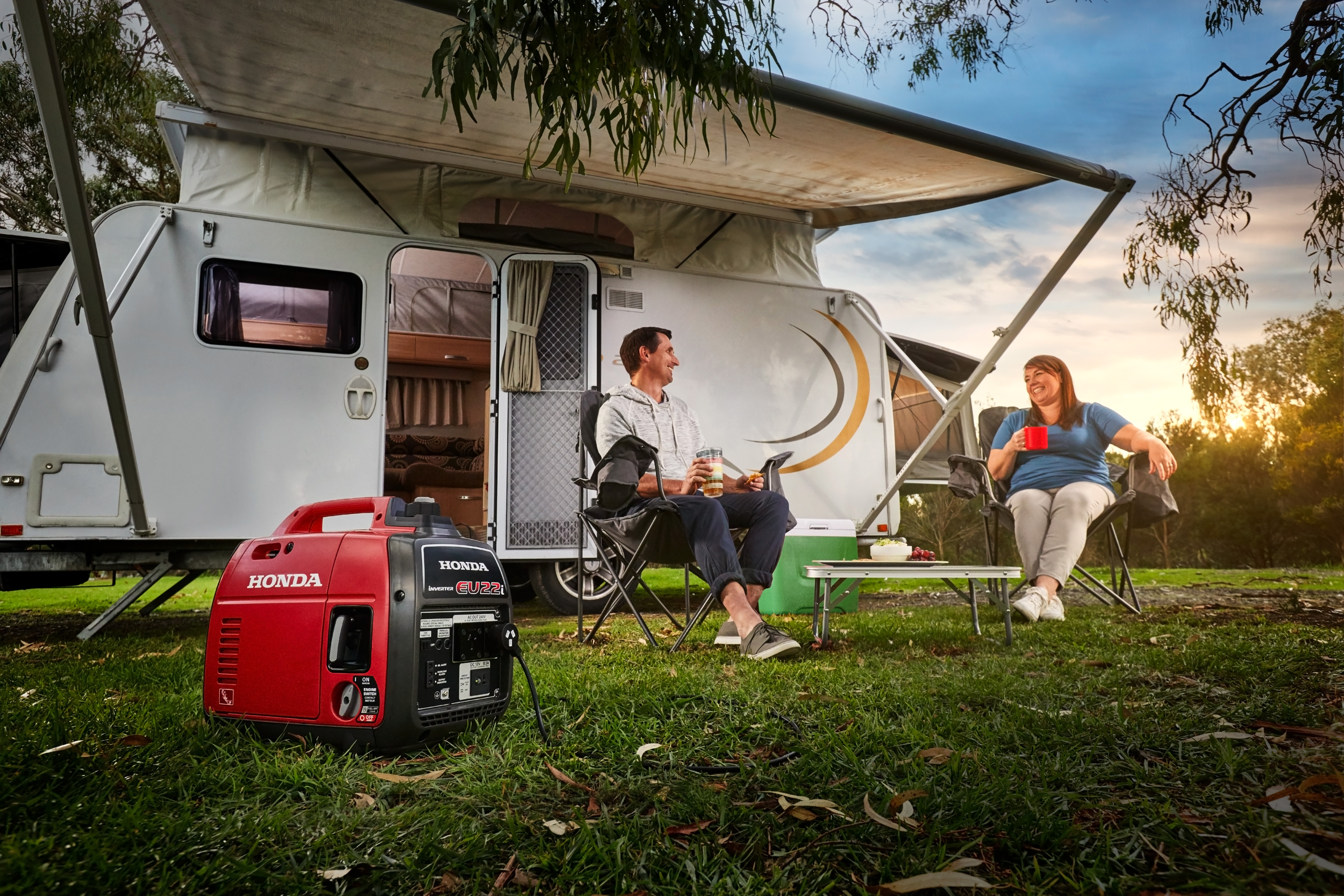 The 3000 watt generator is also a popular choice for RV and caravanning as it comfortably provides power to a range of standard appliances commonly used. RVs are often equipped with larger appliances, including air conditioners and freezers; on average, a refrigerator will consume 650 watts of power and a surge power level of 1000 watts when you first plug it in. Consideration should be given to the total wattage of all these items plugged in simultaneously - except when working with lower wattage items such as laptops, lights, or phone chargers as their drain on the caravan generator is extremely low.
The table below helps to unpack some of these combinations:
| | |
| --- | --- |
| Item | Estimated Watts |
| Small RV air conditioner | 900-1700 |
| Pump | 800-1300 |
| Heater | 750-1500 |
| Microwave | 1000 |
| Phone Charger | 10 |
| Laptop Computer | 20-75 |
| iPad/Tablet | 10-20 |
What 3000 Watt Inverter Generator Should You Buy?
A 3000-watt generator is a very portable and economical generator that will keep the essentials running. Generally, they are known for being efficient on fuel, easy to transport, and affordable in the initial outlay, making them a popular choice in many leisure pastimes.
Now let's look at some of the highest-rated 3000-watt generators on the market today.
Honda EU30is
Honda 3KVA Inverter Generator - EU30is
Fuel Tank Capacity: 13L
Approx. operating hours: 7.1 hours
Benefits: EU30is weighs only 59kg and operates at 52dB(A)*/65dB(A), making it whisper quiet and one of the lightest generators in its class. Perfect for use with frequency sensitive equipment due to its microcomputer-controlled sinewave inverter. The EU30is can be used to power devices such as laptops, dryers, toasters and mobile phones.
Genesys 3650ie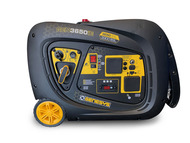 Inverter Generator - Petrol 3.65KVA GENESYS
Fuel Tank Capacity: 7L
Approx. operating hours: 9 hours
Benefits: Designed specifically for when having the lowest noise and lightest weight generator is essential. The ultra-efficient inverter generator is perfect for camping, at home, the farm or building sites and is even equipped with a USB connection to charge a phone.
Where to Buy a 3000W Generator?
It's essential to spend time considering all the factors that may contribute to the efficient working life of any generator you may be considering purchasing.
The key factors identified as being essential to consider when researching the 3000-watt generator is; power output, capacity and formula to ensure you get the best value possible out of your generator.
Browse our range of generators or if there is any information you would like to discuss further with our expert team or to speak directly with a team member, please contact Blue Diamond on 1300 998 647.